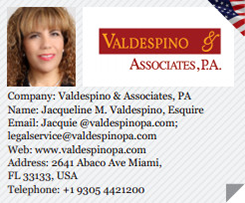 Jacqueline M. Valdespino is the lead lawyer owner of Valdespino and Associates, PA.
Ms Valdespino is Board Certified in Family and Matrimonial Law and is a Fellow of the American Academy of Matrimonial Lawyers. Board Certified Lawyers must take a written test and fulfill extensive requirements to maintain their Certification in Family and Matrimonial Law. Ms Valdespino became a Fellow of the Academy in 2002 and was the youngest Cuban American admitted. Selection as a member of the Academy of Matrimonial Lawyers requires both a written an oral exam as well as proof of an extensive trial practice.
Ms Valdespino is a member of the INBLF, giving her access to its worldwide network of practitioners. She is fluent in Spanish and Italian, having lived in Italy for two years, and has extensive contacts in Colombia. Ms Valdespino speaks extensively on issues of Family and Matrimonial Law, both locally and internationally.
"The internet and social media have thrust the boutique and independent firms into a global market," observed Ms Valdespino. She opines that more specialised firms are doing better as they have fewer overheads and need fewer resources to keep current. However, to do so she believes that these firms need to reach out to a more global audience. "I believe in education and educating both other lawyers and the public regarding trends in the law," she explained. "With a global society comes an increased global need for lawyers versed in the international aspects of a global family and matrimonial practice. Relocation when there are children, parental kidnapping, and enforceability of prenuptial agreements in multiple jurisdictions...the list goes on..." require a specialized Family and Matrimonial lawyer with a global perspective and the resources to meet the demands of the international client.
In conclusion, Ms Valdespino predicts that boutique and independent law firms will thrive over the rest of 2013 as they provide a personalized and tailored product/service.